Background
When restoring to a VSS-enabled application (e.g. Microsoft Exchange), files are restored to disk, but the restore into the application fails with:
Message: 13:44:13 [VSS Plugin] Performing VSS Restore using C:\RestorePath\\ as root
Error: 13:44:15 [VSS Plugin] VSS Restore failed:C:\RestorePath\z_\z\backup.xml (The system cannot find the path specified)
Cause
The restore can fail if the SE Agent had been set to not recreate the directory/folder structure during a previous restore.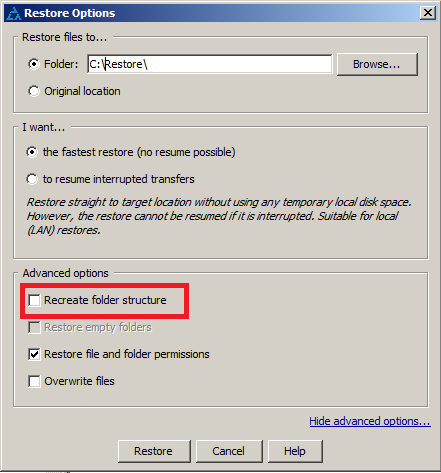 In this scenario, the backup.xml is not restored into the expected folder location and cannot be used to restore the data back to the application. The Agent cannot find the backup.xml file, so cannot use this to complete the VSS restore. This is a known issue.
Note: When restoring the VSS application data, the Recreate folder structure option is not available.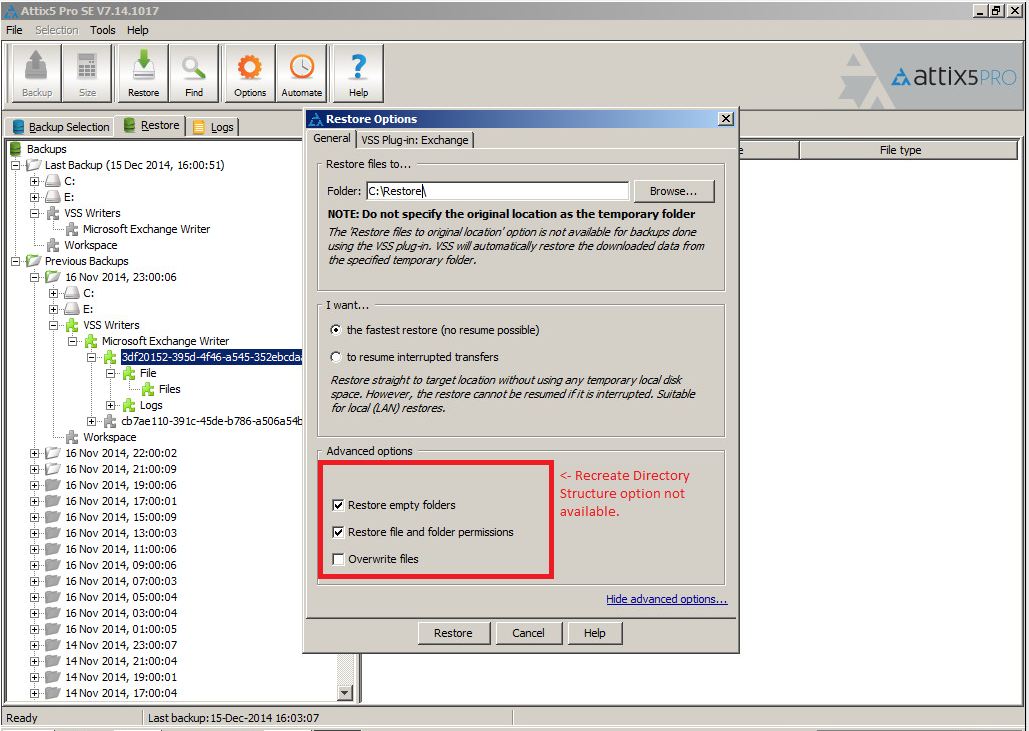 Files are restored to disk into the specified folder, but the application restore then fails with the error described above.
The reason is that the disabled Recreate folder structure setting is "remembered" from a previous file-only restore, causing the problem when you attempt to restore to the application.


Solution
In the Agent:
Go to the Restore tab, select a non-VSS file or folder (E:\WindowsImageBackup in the screenshot below)
Enter a temporary restore path name
Click on Show Advanced Options
Make sure that Recreate folder structure is ticked, and click Restore.

When the restore completes, you can discard the temporary restore data.
Go back to the Restore tab, select your VSS application data for restore, and restore as normal.
The directory structure will be created in your restore folder with backup.xml in the correct location, which the Agent will use to restore data back to the application.